Rabindra Janmotsab at Sadharan Brahmo Samaj
On 11th May at 6.30 pm a musical programme was arranged in the Prayer hall of Sadharan Brahmo Samaj on the occasion of 158th Birth Anniversary of Rabindranath Tagore. Sri Agnivo Bandopadhyay and Smt. Aditi Gupta were the singers and sung solo Rabindrasangeets in the presence of a large no. of audience.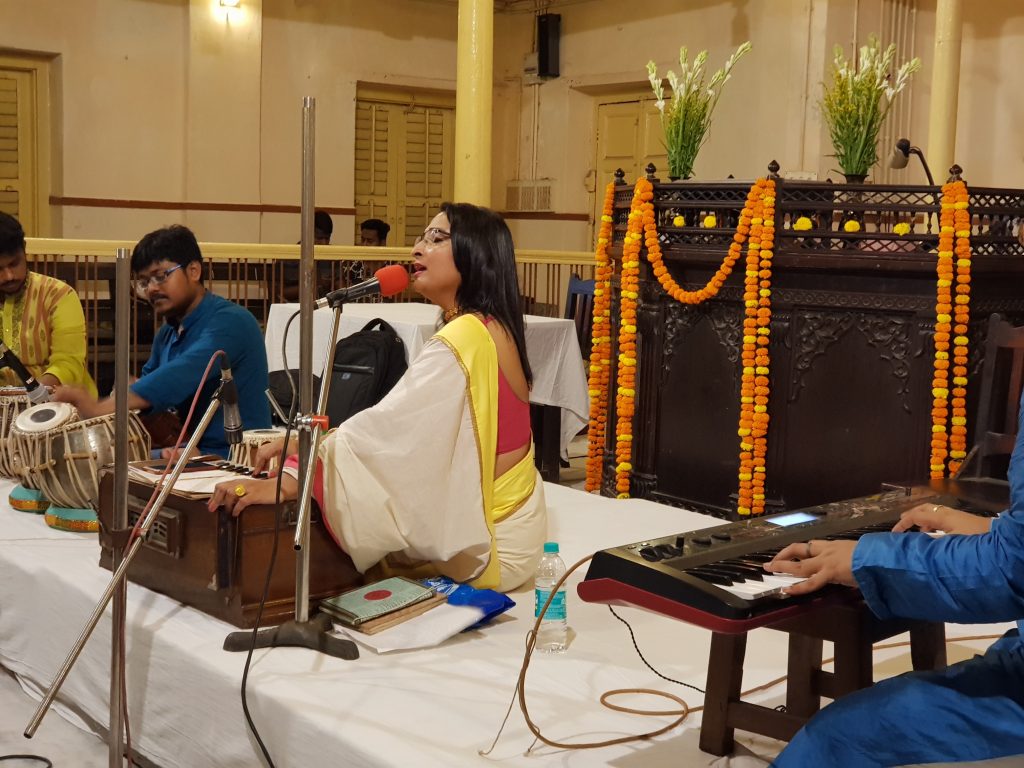 Jaisthaotsab at Sadharan Brahmo Samaj
On 17th May, 2019 (2nd Jaistha, 1426) on the occasion of 141st foundation day of the Sadharan Brahmo Samaj, special service was held in Samaj prayer hall. At 6.00 pm kirtans were sung by various, conducted by Sri Supratim Chakraborty. Divine service was conducted by Sri Sanjib Mukherjee and hymns were performed by Sri Supratim Chakraborty and others.
On 18th May, 2019 (3rd Jaistha, 1426) a lecture meeting was organised on the occasion of 202nd Birth Anniversary of Maharshi Debendranath Tagore. The meeting started at 6.30 pm after a brief prayer offered by Sri Amit Das. The speakers were Sri Amit Das and Sri Sunrit Mullick, Sri Amit Das also presided over the meeting. Sri Sunrit Mullick presented some valuable information on the divine teachings of Maharshi Debendranath Tagore.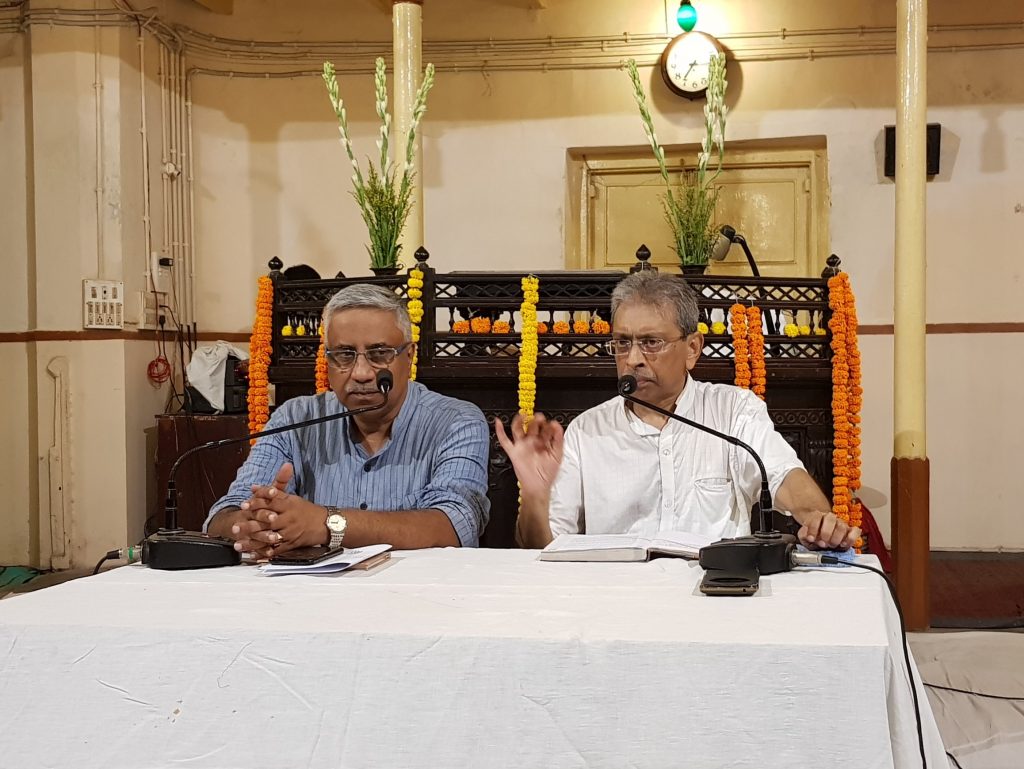 Bhawanipore Brahmo Samaj (Paddmapukur)
Rabindra Janmotsab
On 9th May, 2019, a programme was organized to celebrate birthday of Rabindranath Tagore with due respect. Prayer offered by Sri Arindrajit Saha and explained briefly the significance of Rabindra Janmotsab. Few Rabindra Sangeet and Brahma Sangeet were sung by Smt. Kamalika Bandopadhyay, Smt. Manisha Singha, Smt. Maitrayee Chatterjee, Sri Arindrajit Saha, Sri Pramit Basu and Sri Jatishankar Banerjee. Smt. Maitrayee Chatterjee readout from her won writing on this occasion.

Maharshi Debendranath Tagore's Birth Anniversary
On 15th May, 2019, 202nd birth anniversary of Maharshi Debendranath Tagore was observed in Bhawanipur Brahmo Samaj (Paddmapukur). Smt. Kamalika Bandopadhyay chanted various solkas from Brahmo Dharma. Sri Prasun Ganguly spoke on the history of Maharshi Debendranath's association with the Samaj mandir. Brahmasangeets were sung by Smt. Kamalika Bandopadhyay, Smt. Maitrayee Chatterjee, Sri Pramit Basu and others. Smt. Maitrayee Chatterjee and Sri Pramit Basu narrated brief life sketch of Maharshi Debendranath Tagore.
Domestic News
Adya Sraddha of Khitish Chandra Mandal, died on 10th April was observed on 20th April in his residence at Palta. On this occasion Smt. Kalyanmayee Chattopadhyay conducted divine service and hymns were sung by Dr. Sulagna Biswas, Smt. Sanchita Malakar, Smt. Tania Ghosh, Smt. Debasree Basu and Dr. Atri Mandal. Sri Prasun Kanti Mandal and Sri Mihir Kanti Mandal paid their homage to their brother Late Khitish Chandra Mandal. At the end all guests were entertained with lunch. On this occasion son Sri Masash Mandal donated Rs. 10,000/- to Sadharan Brahmo Samaj.
The elder son of Late Dr. Ananta Kumar Chattopadhyay and Late Hemangini Chattopadhyay, Sri Nirmalendu (Sikder) Chattopadhyaya expired on 13 th May, 2019 at 6-15pm due to cerebral attack at the age of 87. The 'Addya Sraddha ceremony of the deceased was observed in his residence at Palta. The divine service was conducted by Sri Tapabrata Brahmochari and hymns were sung by Supratim Chakraborty, Ilora Chakraborty and Tania Ghosh. The younger son Sri Bimal Sikder paid his tribute to his father. Nephew Sri Kumar Chakraborty paid his homage to his maternal-uncle. Sister Smt. Kalyanmoyee Chattopadhyaya narrated her elder brother's liberal mind and his good reputation in service (at Durgapur) The elder son Sri Dibyendu Sikder donated Rs.1000/- (Rupees one thousand) to Sadharan Brahmo Samaj.

Vidyasagar Attacked
14th May 2019, Black day in the cultural history of Bengal. The Bengal Renaissance and its stalwarts have never been so severely trashed in the past 200 years. And the culpability recent desecration of Iswar Chandra Vidyasagar's bust at Kolkata's Vidyasagar College would appear to rest on the unruly hoodlum of the society. They alleged to have smashed the statue, verily a symbol of leader of 19th century reform movement. More accurately Bengal recently showcases the twin travesty of democracy as also stirring chapter of its history. This reminds us the revolutionary attitude and thoughtlessness of few group 50 years back, who thought desecration of stalwart's bust would rewrite history. Whether or not the present generation or its manifestation endorses the social reforms of 19th century Bengal, need not detain us here. Unquestionable must be the fact that it is a significant chapter in the history of India. Suffice it to record that a political party, during the wrap up motions of their election campaign in the city, (when this vandalism took place) ought to have reined of their thoroughly unruly cadres. The social science, pre-eminently history are open to subjective reflection, admittedly there is a tendency towards academic detoxification, but never through the sheer vandalism of party sponsored miscreants as was witnessed at city's two centers of learning. It is no argument to say there might have been provocation; considering the hostility that has marked the Bengal campaign.
Two centuries after the momentous reform movement that changed the face of an ancient Bengal, it bears emphasis that while the Renaissance ensured that India would not remain wholly Western, it was equally natural that she would not be wholly eastern. It is hard not to wonder whether any political party has an issue with such reforms as the abolition of sati, widow remarriage, or English education. In the 21st century, there can only be a certain nuisance value to such reservations, if any. The other probable provocation might be purely political. If that be, then that was intrinsically an organizational matter. The retaliatory strike on Vidyasagar's statue exemplified far greater indignation to the party. Vidyasagar and Raja Rammohun Roy symbolized the Bengal Renaissance movement, not to forget the role of Lord William Bentinck, pioneer of suppressing horrid practice of Sati. The stalwarts were trivialized in the presence of hundreds of casual onlooker who were mute witness to the mockery of values by miscreants illiterate in the country's heritage. Iswar Chandra Vidyasagar deserved better in a city that was the structure of the Bengal Renaissance. He has been disgraced. Sadharan Brahmo Samaj strongly condemned such type of most barbarous and outrageous act which not only tarnish Bengals' image but also reputation of entire society and take following resolution "The Executive Committee of Sadharan Brahmo Samaj condemn the act of such vandalism at an Institute of higher education and damaging the bust of Iswar Chandra Vidyasagar, Government should identify the culprits and take appropriate actions as per law".