By Jayati Gupta
Those of us who have grown up in Brahmo families perhaps need to appreciate the legacy of women's education and value it. As a young girl it had never occurred to me that to see grandmothers who could read and write, aunts who were teachers or doctors, a mother who could help with the homework or read out stories was anything unique. Whether it is a girl child or boy, going to school and college were the normal things to do. Yet if literacy is taken as a marker of development and socio-economic progress even the last, the 2011 Census statistics of India places the overall literacy rate at 74.04%. Also, a gender disparity remains and the gap between literacy of men and that of women stood at 82.14 % for men and 65.46% for women.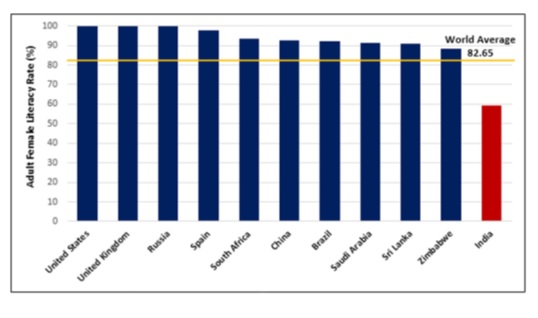 I would like to argue that even this percentage of literacy among women would not have been possible if Raja Rammohan Roy, one of the architects of modern India had not placed access to education as a primary focus of his social reform movement that went hand in hand with the formulation of Brahmoism in 1828.
The Brahmo creed upheld the dignity of all human beings irrespective of class or caste, gender or race. In the nineteenth century, society in our country was orthodox and discriminatory. Brahmoism acted as a great equaliser as it was based on tolerant, rational and secular principles. It would not be an exaggeration to suggest that Rammohan was, like any visionary thinker and reformer, much ahead of his time. In an 1818 pamphlet titled 'A Conference between an Advocate for, and an Opponent of, the Practice of Burning Widows Alive' he wrote: "…Women are in general inferior to men on bodily strength and energy; consequently the male part of the community, taking advantage of their corporeal weakness, have denied to them those excellent merits that they are entitled to by nature, and afterwards they are apt to say that women are naturally incapable of acquiring those merits." (As quoted in Guha, p.30)
The injustices of patriarchy are clearly upheld when he goes on to point out that women were not given "a fair opportunity of exhibiting their natural capacity" and asks "How then can you accuse them of want of understanding?" (Ibid.) He opines that "as you keep women generally void of education and acquirements, you cannot therefore, in justice pronounce on their inferiority…" (ibid). One can claim that Rammohan was a pioneering feminist in India, not only canvassing for the abolishment of the cruel practice of Sutee but having the farsightedness to initiate social reforms to empower women with education. Even in 1836, that is much after 1818, William Adam in his Report on the State of Education in Bengal (1836) wrote: "A superstitious feeling is alleged to exist in the majority of Hindu families, principally cherished by the women and not discouraged by the men, that a girl taught to read and write will soon after marriage become a widow." (As quoted in Forbes, p. 84 in Sarkar).
So Rammohan was up against serious odds where women themselves found it difficult to challenge prevailing patrilineal codes and opposed education. This education that we are talking about is secular education as traditionally education in the country meant learning to read sacred literature — restricted to upper caste men. Women's education in upper class families was informal — both in Hindu and Muslim families — often restricted to practical lessons — reading the Puranas or Koran, simple accounting and useful domestic skills. Even when the British government sponsored education, initially they were not concerned with female education. Social norms in India and seclusion of girls made it imperative to set up separate institutions with female teachers. Reformers and missionaries stepped in here. But the problem was with families reluctant to send their daughters to school, while zenana education or education at home was expensive. Also where were the female teachers? Except the missionaries.
So now I understand why my pishis, mashis, pishididas, mashithammas, didishasuri were all teachers! The Brahmo Movement all over India, later the Prarthana Samaj, Arya Samaj and Theosophical Society all supported female education. This meant that Brahmo families and those who believed in liberal principles, started sending their girls to school before they set up their own institutions. John Drinkwater Bethune, Legal member of the Governor General's Council and President of the Council of Education opened in 1849 the Hindu Balika Vidyalaya in Calcutta and persuaded several prominent families to help this experiment. Pandit Vidyasagar was appointed school secretary. The breakthrough however came, not with government schools, but with those sponsored by reformist religious institutions. In 1854 there were approximately 626 girls' schools. Bengal 288, Madras 256, Bombay 65, NWFP and Oudh 17 (Forbes, p. 85-6 in Sarkar).
Keshub Chunder Sen in 1861 lectured on the importance of female education and equality between the sexes. In 1862 he organised a society of males who supported reforms for women. In 1865 the Samaj sponsored the Brahmika Samaj, the first organisation where women met for religious instruction, sewing lessons and discussion on social issues. So women were becoming literate and were being trained to think rationally that could usher them into a more public role. In 1866, Navabidhan, Keshub Sen's group that had parted company with Devendranath welcomed Mary Carpenter to Calcutta. Her mission was to promote female education, and develop suitable teachers. In 1871 Carpenter, Keshub Chunder Sen and Annette Akroyd (who later fell out with him) set up a Native Ladies Normal and Adult School which would grow into Victoria Institution College. Carpenter moved around the Presidencies to get a holistic idea of women's education. One of the schools that she visited was the one that Sasipada Banerjee, a Brahmo Social worker established for girls in Baranagar in 1865. Brahmo Balika Shikshalaya was established in 1890. And this setting up of schools for girls was a trend that continued into the early years of the 20th century. To take one example, Hemlata Sarkar, daughter of Pandit Sivanath Sastri set up Maharani Girls' School in Darjeeling in September 1908. It was the first privately run school for Indian girls in the district. Her concern for the education of the girl child was deeply stirred when her own daughters were refused admission to the English missionary school for girls, namely, Loreto Convent, Darjeeling. She did not appeal to the government but decided to establish a Bengali-medium school for 'native' girls with the help of Maharani Sunity Devee of Coochbehar and her younger sister Sucharu Devi, Maharani of Mayurbhanj, daughters of the Brahmo leader Keshub Chandra Sen. The commitment of the Maharanis, including the wife of Raja Bijoy Chand Mahtab of Bardhaman, led very aptly to the naming of the school, which still operates today.
Ramamohan had encouraged significant social reforms focussing on women. The Sati Regulation Act of 1829 came into effect during his lifetime. Other landmark legal enactments followed — the Widow Remarriage Act of 1856, and the married women's property act of 1874.
The matter of higher education for women created a schism in the Brahmo movement. College teaching for women began with Hindu Mahila Vidyalaya later renamed Banga Mahila Vidyalaya that merged into Bethune College in 1879. Durgamohan Das, Anandamohan Bose, Dwarakanath Ganguli took an active role in this development. Abala, daughter of Durgamohan Das, later wife of scientist Jagadish Chandra Bose wanted to pursue a degree in medicine. The Calcutta Medical College, at that time, did not allow female students in their institution. Having failed, therefore, to secure her admission there, Abala went to Madras in 1882 on a Bengal government scholarship to study at the Madras Medical College. Kadambini and Chandramukhi Basu were the first women graduates of the University of Calcutta in 1882. Kadambini was refused admission in Calcutta Medical College. Dwarakanath Ganguli, later her husband, invoked an ambiguous clause in the 'Resolution' [pertaining admissions] where it was written that 'any person' who had passed the B.A. Examination would be eligible for admission at the Medical College to study western medicine. The then authorities had not paid attention to the fact that one day women might qualify for admission. At that time the Resolution had been passed. Women were not allowed to appear for the B.A. Examination, so only men were eligible for admission to medical courses. Kadambini was admitted in 1883. This is an instance of discrimination against women by a supposedly more liberal western society.
Moving a step ahead Rabindranath Thakur in his ashram at Shantiniketan opened up coeducational education as early as 1908. Hindu College, established 1817, where Rammohan had a role to play, opened its admissions to women students in 1897 in a limited way.
The Brahmo movement created a paradigm or model of women's education that was replicated all over India where society was in the process of being transformed by activists inspired by Brahmo ideals — significantly in Bihar, Andhra, Maharashtra, Karnataka. It was also adopted by progressive reformists nationally.
Where are we today? The Brahmo Samaj Education Society (BSES) in Kolkata is no longer allowed to administer colleges initially set up by the Samaj. So what came up as distinctive educational institutions are no longer acknowledged as such.
Right wing fundamentalists in India today are only paying lip service to female emancipation. Literacy is one thing and education another. The graph of female literacy may go up but that does not mean that a holistic education — change in attitudes and ways of thinking, freedom from superstition is actually happening.
As Brahmos how can we challenge and reset this regressive mindset? What should we do to create renewed social awareness about the equality of men and women? How can we activate schemes to bridge the national census gap between male and female literacy? This is the introspection that we need to do today and come up with outreach programmes (for adult literacy or primary education) of the Samaj.
References Cited:
Forbes, Geraldine. 1996. "Education for Women" from Women in Modern India (New Cambridge History of India, vol.iv, no.2), pp 32-63.
Guha, Ramachandra, edited. 2010. Makers of Modern India. "The First Liberal: Rammohan Roy", pp 26-45.
Sarkar, Sumit and Tanika , edited. 2007. Women and Social Reform in Modern India.
Sastri, Sivanath. First published 1911, rpt.1993. History of the Brahmo Samaj.