We remember with respect and admiration the men and women who have dedicated their lives to the cause and ideals of the Brahmo Samaj and its counterparts across India. We are presenting short life sketches of those who were born or had died between the month of December.
Sasipada Banerjee
Born 2 February, 1840,
Died 15 December 1925
(Taken from a Bengali article by Shreyashi Sen)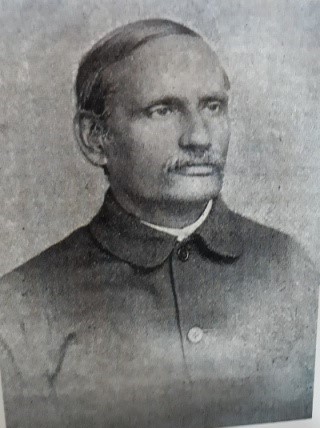 Sasipada Benerjee was born on 2 February, 1840, at Baranagar and died on 15 December 1925. Sasipada was a Lawyer by Profession and a Social Reformer by passion. He was greatly influenced by Brahmananda Keshab Chandra Sen and was drawn to the Brahmo Samaj. He dedicated his life for the emancipation and empowerment of women. During his lifetime he gave shelter to many destitute women and helped them to become independent and earn their livelihood with dignity. She educated his wife Rajkumari and after her untimely death he opened a school named Rajkumari Vidyalaya in her name. The school proudly exists even today.
He was one of the pioneers of Labour Welfare activities. He was deeply distressed by the destitute condition of the jute mill workers in the areas around Baranagar, like Ariadaha, Kamarhati etc. There was disparity in wages and no scope for improving their working conditions. Further the workers were under many evil habits like drinking and often became entrapped in debt. Sasipada started a movement to improve the lifestyle of the Jute Mill workers. In fact he was one of the first Indians who worked for labour welfare, started a magazine for the mill workers, tried to educate them and teach them the importance of saving. He started a night school in a jute mill for the mill workers in November 1866 which was the first Working Men's Night School in India. Initially this free school was run by Sasipada and his brother Kedarnath but after four years it started receiving government funding as well. Sasipada tried to eradicate the ill habit of drinking which was one of the main reasons of trouble for the workers. He tried to wean them from this bad habit. He therefore started a Working Men's Club in 1870 and a Temperance Association under it to curb the evil habit. This club was perhaps the first trade union of its kind. In order to build up the healthy practice of saving he started an "Anna Bank" where the workers were needed to save an 'anna' each per day to build up a corpus for their rainy days. This was the first micro-finance inspired small savings bank in our country.
He started publishing a monthly magazine called 'Bharat Shramajeebi" in order to make the well-to-do classes aware of the plight of the mill workers and influence them to support their cause with fund and other help. The magazine helped to improve the morals and working ethics of the workers and soon its subscriber strength touched 15000. This magazine gained immense popularity.
Although his Night School was open to all irrespective of caste, creed and religion yet he also started a Madrassa for the Muslim workers on the request of the latter. Sasipada was the first Indian to work for the up liftment of the toiling masses, much before the Communist ideals reached this country.
Abinash Chandra Majumdar
Born October 1855;
Died December 1925
By Sanjoy Chanda
In the early days of Brahmo movement it had attracted many dedicated followers. Their piety, their devotion, their dedication in serving the less fortunate – these exemplary qualities made them beloved of the societies they served and helped spread the message of the Brahmo Samaj. They practiced what they preached and their truthfulness and their simple lifestyle following the doctrines of Brahmo faith and their courage of conviction enabled them to surpass the many obstacles that confronted them.
Shree Abinash Chandra Majumdar was one such dedicated Brahmo.
He was born in Kanpur on the 14th of October, 1855. His family originally belonged to Chandannagar I Bengal. But his ancestors had migrated to North India generations ago. Some of them had gone to Afghanistan during the first Afghan war. His father's name was Biswanath Majumdar. He spent his childhood in Kanpur with his parents. When he was 9 years old, he was sent to Benaras to live with his grand uncle Nemaicharan Majumdar. His student life was spent there and he earned his BA degree from the Queen's College.
In 1869, at the age of 13, Abinash Chandra was married to the 7 year old daughter of Chandranath Mitra. He had educated and brought her up himself and she had been a true companion for him in all his social and spiritual work.
At the age of 22 he came to Lahore and got a job in the Examiner's Office of the NW Railways. He retired from the same office in 1909. At work, he was reputed to be an honest and careful officer. His superior officers held him in great respect and those below him looked up to him as a friend and a guide. He was a father figure to his attendants. Shortly after his death an old blind chaprasi came weeping to his house. When he had lost his sight and could not work any longer, his kind master provided for him.
Though Abinash Chandra was known for his earnest and diligent work in his office, that did not come in the way of his service to God and the community. His liberal college education and reading the works of Theodore Parker which he had received from his father-in-law, had freed his mind from orthodoxy. During the early part of his career, he used to visit the Brahmo Samaj there. He had got transferred to Rawalpindi for a few years (1881 – 1886) and while there he accepted the principles of Brahmoism as the guiding tenets of his life. Sadhu Aghor Nath Gupta once visited Rawalpindi and his discussions with him helped him. He met and became friendly with some young men with similar belief such as Devi Chand (later known as Bhai Prakash Dev), Madhusudan Sarkar and Lala Har Bhagwan Anand. They started a Brahmo Samaj there. The divine service was mostly conducted by Abinash Chandra. The Theosophical Society, which had been started some years ago with the idea of establishing the brotherhood of religions, appealed to him and he became its member. He was always in touch with worthy movements. It was in Rawalpindi that Abinash Chandra started his active service in the cause of God and humanity.
When he came back to Lahore, he immediately plunged into various activities. In November 1886 he was elected Jt. Secretary of the Punjab Brahmo Samaj and a Minister. Since then till his death he served the Samaj in various capacities. In 1889 he was elected Secretary of the Samaj. During this period The Punjab Samaj went through a crisis. In 1886 a prominent member of the Samaj, Pandit Shiv Narayan Agnihotri left the Samaj and started his own movement called Dev Samaj. His charisma and powerful eloquence attracted a large number of active members of the Samaj who left it to join his movement. Even Bhai Prakash Dev had left. Through the crisis Abinash Chandra maintained good relationship with his friends and remembered them in his prayers. Though Dev Samaj began as a movement similar to Brahmo Samaj, it gradually deteriorated into something very different. Subsequently Prakash Devji came back to the Samaj to join hands with his friend. He had remained the Secretary and President of the Samaj for a number of years. He used to carry out ministerial service on a regular basis. He helped to erect Brahmo Mandirs at Rawalpindi and Sialkot. The Brahmo Sadhana Ashram in Lahore was founded by Abinash Chandra and Bhai Prakash Dev.
Abinash Chandra had completely surrendered himself I the service of God and the community. He would not undertake any task for which he had not received the approval of the voice within and whatever he undertook he did with heart and soul. He was systematic and methodical in his office work as well as in all his social and philanthropic activities.
He started in 1891 the Purity Association, a movement with threefold objective:
Purity – to disseminate the ideas of purity and morality among the people.
Temperance – to persuade and prevent people from drinking liquor and from the use of other intoxicants.
Charity – to create sympathy for the poor and work for the general welfare of the society.
Members of the association had to sign a pledge vowing to follow the principles of purity and morality. Abinash Chandra used to carry out his campaign against social evils vigorously. Sometimes he along with other members of the association would visit the streets to dissuade young men from falling into evil habits. Their efforts bore fruit and to a great extent evil practices reduced in the city of Lahore. To carry on the propaganda in other parts of the country, he started a fortnightly paper called the "Purity Servant" in 1892. He published it successfully for 15 years. The association carried out works of charity of various kinds among the sick and the poor. They collected donations for a leper asylum, during influenza and cholera epidemics attended to the poor sick people, provided free food and medicine, blankets and warm clothing were distributed among the destitute, poor students were helped with their fees. A charitable dispensary was started.
Whenever any occasion arose for the service to the needy, Abinash Chandra would be volunteer for it. During the famines in Rajputana he organized relief. He visited Bikaner and Jaipur, brought the affected people to Lahore and started a relief camp. For years he ran an orphanage. When Kangra valley suffered from a terrible earthquake in 1905, Abinash Chandra led a band of volunteers on behalf of the Punjab Brahmo Samaj. In 1907-8 and in 1913-14 there were famines in the United Provinces. He visited the affected places and carried out relief work on behalf of the Brahmo Samaj.
Sirdar Dayal Singh found him a valued friend and advisor. He was made a trustee of the Dayal Singh College. Abinash Chandra on his part rendered very useful service and remained a trustee almost to the end of his life.
Abinash Chandra used to take leave from his office and travel to different places in India to spread the message of the Brahmo Samaj. For a number of years he was the General Secretary of the All-India Theistic Conference. In 1908 he was elected President of the All India Theistic Conference in Madras. The address he delivered there is a model of genuine social worker imbued with deep spirituality. He organized the Theistic Conference in Lahore, Allahabad and other places. During the conference in Allahabad, Sharada Manjari Datta, a highly respected Brahmo devotee from Shillong , met Abinash Chandra. I quote a few lines from her autobiography "MahajatrarPathe" (translated from original Bengali): "We reached the designated guest accommodation late in the night. There we found that highly revered saintly Abinash Chandra Majumdar along with his wife had taken charge of the guest accommodation. I had heard about Shri Majumdar, but had not met him before. The couple's calm, dignified appearance and their attitude of selfless service evoked in my heart great respect for them…… There was a group of Bengali guests who did not observe any discipline……they did not come during the normal mealtimes. At night also they would return very late. Srimati Majumdar, along with a servant, on these cold winter nights of December, wait for them and keep their food and water warm. I would sometimes tell her to go and rest, the servants could feed the guests. But she would reply: 'I cannot do that'.……….Abinash Chandra Majumdar was engaged in a senior position in the railways. After retirement he has settled down permanently in Lahore. As a summer house, he had built a nice house in Solan, close to Simla. We were fortunate to have stayed there for a few days. The house had a separate room meant for daily upasana."
Managing the guest accommodation was only a part of the responsibilities held by Abinash Chandra. He managed the devotional exercises and public functions with great care and ability.
Immediately after his retirement in 1909, he got involved in setting up a home for TB patients in Dharampur on the way to Simla. The promoters of this project could not have found a more honest, hardworking and competent person for the job. He spent three years on the project nursing it from conception to completion and at the end he presented the complete account for the project to the State of Patiala. He did not take a single paisa for his own efforts. When the Government proposed to award him a title at the time of the visit of Lord Hardinge to Dharampur, he stoutly refused it. His motivation was service to his countrymen. He used to look after the poor patients with great care, providing them with food, medicine and clothing. After their recovery, he helped them to get a livelihood. He helped the patients not only to regain physical health, there were cases someone had lost all hope of life and he helped revive their hope by tender care and loving guidance. As long as he was at Dharampur, no fees were charged from the patients.
Abinash Chandra worked in different fields, in the cause of education, social reform and social service. He was an effective preacher and genuine missionary. But within this man of action was hidden a person with childlike simplicity, sincere and genuine. His devotional services were so edifying that many came to listen to is discourses. His chaste Hindi and sweet Bengali had a simple eloquence. He translated Sikh scriptures into Bengali which were printed in Tatwa Kaumudi, the Bengali organ of Sadharan Brahmo Samaj.
Abinash Chandra Majumdar passed away at the age of 71 in December, 1925.
Reference:
The above article is sourced from a booklet titled "IN MEMORIAM: Abinash Chandra Majumdar."