By Sudakshina Kundu Mookerjee
If the last decades of the nineteenth century saw some distinguished women doctors, the women started entering other fields of science as well from the beginning of the twentieth century. But their foray in the still new field of science was an uphill task and it met with severe challenges.
Janaki Ammal (4th November 1997 to 7th February 1984) was Botanist. Her field of study was Cell Biology. Janaki was one of the first women scientists in India who was awarded the Padma Shri in 1977. She had the rare honour of being awarded Hononary Doctorate (DSc Honoris Causa) by the University of Michigan, from where she earned her doctoral degree. Janaki Ammal was a Botanist and a Cytogeneticist par excellence.
Born to Dewan Ek Krishna, a sub-judge of Tellichery, Kerala, one among his nineteen children, six from his first wife and thirteen from the second, Janaki inherited her father's love for nature and science. She finished her schooling from Tellichery and moved to Madras (Chennai now) to study in Queen Mary's College and Presidency College (Madras) for her Honours degree in 1921. Janaki received a prestigious scholarship and went to USA to earn her Masters Degree in 1925. She had to persuade her family against marrying her off. Janaki started teaching in Women's Christian College after graduation in 1921 and before she moved to the USA for her post graduate studies. On return she joined Maharaja College, Trivandrum, from 1932 to 1934 before joining the sugarcane breeding station at Coimbatore as an expert Cytogeneticist. Janaki's research produced the high yielding variety of sugarcane through manipulation of polyploid cells through cross-breeding of hybrids. This variety of sugarcane could thrive in the harsh climates of India. Her research also furthered the analysis and geographical mapping of sugarcane in India. When Janaki Ammal joined the Indian Institute of Science as a research fellow selected by C. V. Raman, she had to face great resistance from her male colleagues, her gender and her caste proved to be the source of the problems she encountered.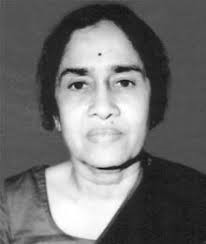 Kamala Sohonie (18th June 1911 to 28th June 1998) was the first Indian woman to be awarded a Ph.D. degree in Science in India. Her specialisation was Biochemistry. Kamala's father Narayanrao Bhagwat and brother Madhavrao were both renowned Chemists. Inspired by her brother who was among the first students of (Tata) Institute of Science, Bangalore (presently Indian Institute of Science) Kamala applied for scholarship to the Institute after she had secured first class first from Bonbay University. However, her application was turned down by none other than Sir C. V. Raman, since the Nobel Laureate was not comfortable with allowing women in his research laboratories. Kamal did not accept this refusal lying down. Being a believer in Gandhian philosophy, she started Satyagraha in Raman's office till he allowed her admission. However, it was a conditional one as she was on probation for one year and her decorum in the laboratory would be such as not to distract her male co-workers! Her determination, disciple and sincerity paid in the long run and after her probationary period she was permitted to work under her teacher Sri Sreenivasya. Her efforts won and she opened the door to other female researchers. She studied the nutritional roles of proteins and vitamins in milk, legume and pulse in Indian food habits. Kamal worked in Cambridge University, UK, as well. She worked on the nutritional benefits of the palm extract Neera brought her the Rashtrapati award.
Bibha Chowdhuri (1913-1991) was the first woman particle physicist of India, whose contributions remained overshadowed by the men who guided her. Her name figures in context of her guide Dr. Debendra Mohan Bose, and seldom remembered for her pioneering contributions, until very recently.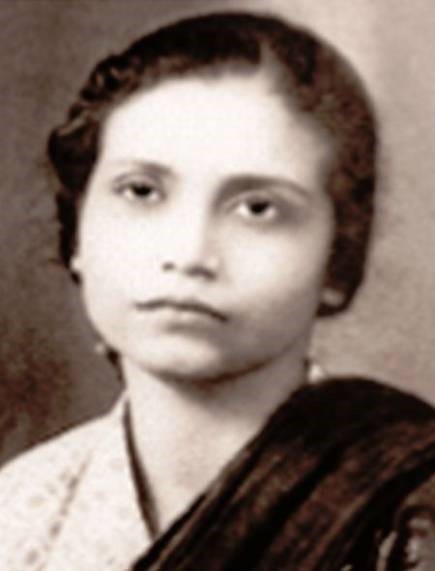 Bibha was born to Dr. Banku Behari Chowdhuri, a medical practitioner and Urmila Devi, who belonged to the Brahmo Samaj. The liberal ideas she was brought up in imbued in her the quest for knowledge and the courage to pursue a career in science, a rarity among women in her times. She was the only lady student in the Masters Degree class at the Calcutta University. In 1936 she was the third woman to receive a post graduate degree in Physics from the University. Just like Kamala Shohonie before her, she was initially rejected by Professor D.M. Bose to work under him at Calcutta University. However, her determination forced him to relent. She moved to Bose Institute in 1938 when D.M. Bose joined the institute as its Director. She continued her untiring work in experimental particle physics under him and is credited to have discovered the subatominc particle 'meson' by using photographic plates. The research papers authored jointly by Bibha and Bose were published in the reputed research journal 'Nature'. The World War II was raging at the time and Bibha's group could not manage to get the more sensitive photographic plates which were used by Cecil Powell seven years later to detect the 'pion's and 'muon's by using the same technique proposed by Bibha Chowdhuri.
She left India to pursue her doctoral work abroad and in 1945 she joined experimental physicist and Nobel Laureate Patrick M. S. Blackett at the cosmic ray research laboratory in Manchester. During her stay in Manchester she was first acknowledged for her pioneering work. She returned to India in 1939 and worked in Tata Institute of Fundamental Research till 1957 after which she joined Physical Research Laboratory (PRL) in Ahmedabad, Gujarat. She retired voluntarily in 1960 from PRL and moved back to Calcutta (Kolkata) where she continued her research in high energy particles.
The International Astronomical Union paid her the much deserved honour by naming a white-yellow dwarf star 340 light years away from the Earth, in the Sextans constellation, 'Bibha" after her.
Professor Asima Chatterjee (23rd September 1917 to 22 November 2020) left her indelible mark in the field of organic chemistry and phytomedicine. She had been a student of Acharya Prafulla Chandra Roy and derived inspiration from him to study the medicinal properties of Indian plants. A graduate of Scottish Church College she received her master's degree in chemistry from Calcutta University in 1938. She was the first woman in to be awarded a D.Sc. from an Indian University. It was in the year 1944 and under the guidance of Dr. P.K.Bose. She also worked in the University of Wisconsin, USA, California Institute of Technology, Pasadena, N.L.university, Zurich. She joined the University of Calcutta in 1950, and became the Khaira Professor of Chemistry, a most presitigious chair. Asima Chatterjee was a legendary teacher and researcher. She is credited to have developed anti-epileptic and anti-malarial drugs. She was a Fellow of the Indian National Academy and the Rajya Sabha.
Rajeswari Chatterjee was one of the first women engineers of India. She was born on 24th January 1922 in Karnataka to B.M. Shivaramajah, who was an advocate in Nanjangud. She started her school in a special English School founded by the grandmother Kamalamma Dasappa, who was one of the first women graduates in Mysore. Kamalamma worked untiringly for educating widows and deserted women.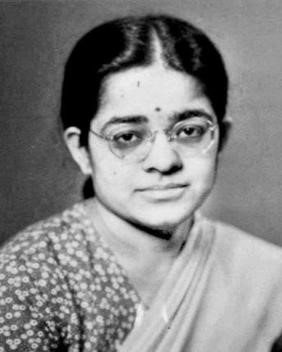 Rajeswari graduated in mathematics and earned her post graduate degree in the same subject. She topped in Mysore University in both the examinations. Thereafter she joined Indian Institute of Science (IISc), Bangalore, as a research student in the department of Electrical Engineering. Her ambitions of working under Sir C.V. Raman were quashed when he refused to guide her stating that she had no degree in Physics. After the WWII she went abroad on scholarship to the University of Michigan, Anne Arbor, USA, and earned a master's degree in Electrical Engineering. As per the conditions of her scholarship she had to train under the Division of Radio Frequency Measurements in National Bureau of Standards, Washington D.C. She then worked on her doctoral studies and received her Ph.D. in 1953. On her return she joined the Department of Electrical and Communication Engineering at IISc, Bangalore. She married Dr. Sisir Chatterjee, her colleague at IISc.
References:
The Pioneering Female Botanist Who Sweetened a Nation; www.smithsonianmag.com>science-nature>pioneer
Meet India's First Women Ph.D. in Botany – She is The Reason Your Sugar Tastes Sweeter; by Sanchari Paul, November 16, 2016, www.thebetterindia.com>stories
The Scientist Lady: Indian Academy of Sciences, by Vasumathi Dhuru; www.iasac.in
Kamala Sohonie: Breaking All Barriers – Live History India; www.livehistoryindia.com
Remembering Bibha Chowdhuri, www.tifr.res.in
Bibha Chowdhuri: A Missed Nobel Prize and An Unfulfilled Prophecy by Julie Jacob, 14 January, 2021
Asima Chatterjee by S.C.Pakrashi; www.ias.ac.in
Remembering Rajeswari ChatterjeeIISc's First Woman Engineer by Sridevi Venkatesan and Subhayan Sahu, www.connect.iisc.ac.in