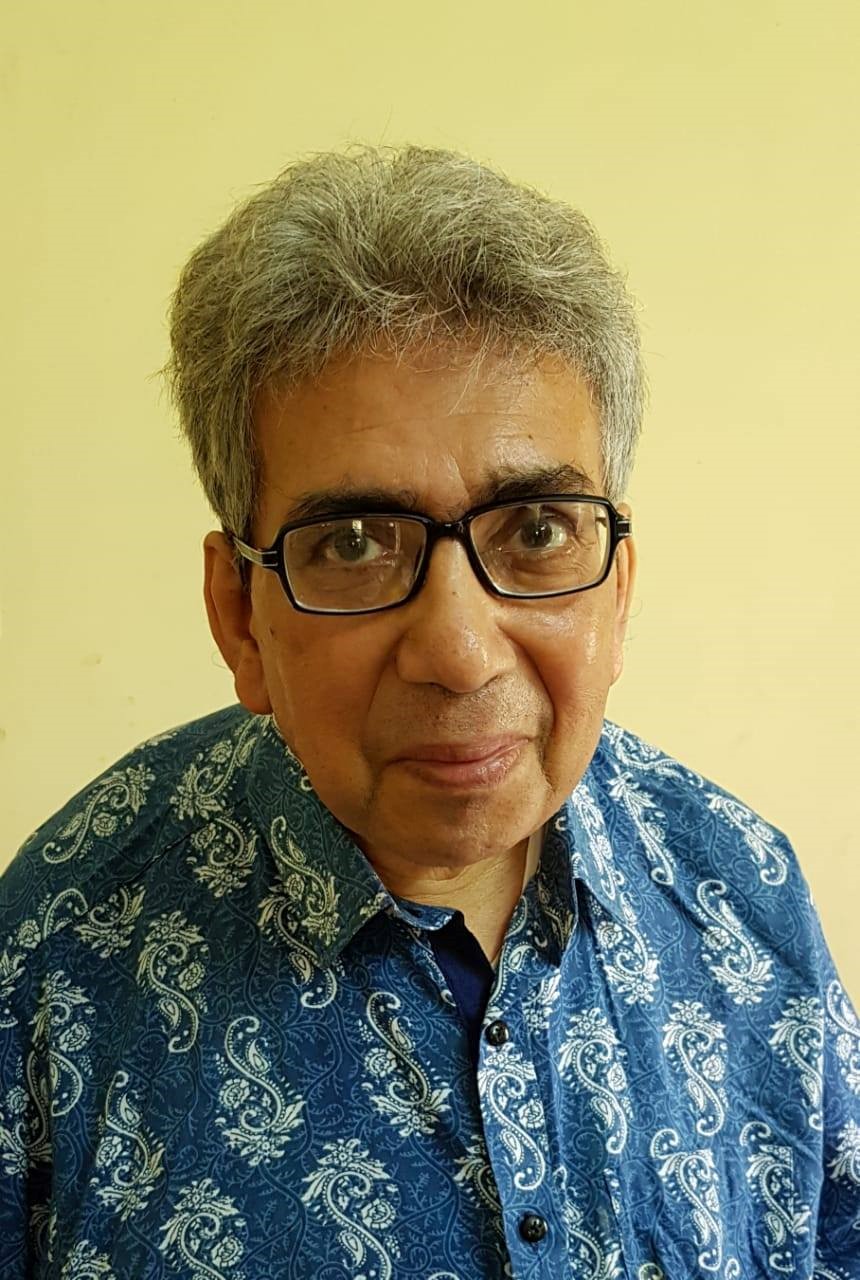 Dr. Gautam Neogi was born on September 9, 1947, to late Shri Sudhangshu Mohan and late Smt. Ranu Neogi. They originally belonged to Tangail, in the district of Maimansing in what is now Bangladesh. His father was employed with the railways. Dr. Gautam Neogi spent his childhood and youth in Calcutta (now Kolkata) where he also pursued his higher studies, specialising in History. He completed his post-graduation and doctoral studies from Jadavpur University with great distinction and earned his Ph.D. in 1984. He started his teaching career in 1970 initially as a lecturer in Taki Government College and then was posted to Darjeeling Government College followed by Kharagpur Government College. He finally joined Raja PeariMohan College in Uttarpara in the year 1987. He superannuated in 2007. As a member of the Senate, Dr. Neogi was associated with the administration of the University of Calcutta.
Dr. Gautam Neogi was an authority in the Social and Cultural history of Bengal. He was associated with West Bengal History Sangsad, West Bengal History Samity, Indian History Congress and many other organisations related to historical studies. He was associated with the Working Committee of these organisations at different points in time. He has penned a large volume of articles, books and criticism in Bengali. Although he had also written in English, yet his preference lay with Bengali. He had authored text books in history at the behest of reputed publishing houses like Orient Longman and Banerjee Publishers. He entered the world of literature during his school days. In 1976 he was encouraged by Shri Sagarmoy Ghosh to write a book criticism in the 'Desh' magazine and then he became a regular contributor for this magazine. Apart from many erudite critiques he had written features and interviews of famous personalities for this popular magazine. He had contributed in the Autumn special annual festival issues of Desh. Dr. Neogi earned a name as a translator and the Works of Shakespeare were translated in Bengali under his editorship and published in five volumes. Later he translated the research papers of many reputed historians. He was adept at editing well known works. He published the 'Atmacharit' of Pundit Shivanath Shastri with suitable annotations. This book was published by Shri Pulin Benhari Sen on behalf of Sadharan Brahmo Samaj. The cover was designed by Shri Satyajit Ray.
Research on the Brahmo Samaj movement of the Ninteenth Century Bengal was his favourite topic. He had authored a number of books on the topic which were published by Sadharan Brahmo Samaj. These are 'The life of Ramchandra Vidyabagish' (Ramchandra Bidyabagisher Jeebani), "Tatwabodhini Sabhar Katha', 'Rammohun Charcha (Editing and Collection), Editing and annotation of Shivanath Shastri's book 'Rammohun, Debendranath, Keshab Chandra and Other Personalities" (Rammohun, Debendranath, Keshab Chandra O Onyanya Byaktitwya'), editing of 'Brahmo Samajer Panchbingshati Botsarer Parikshito Brittanto' and authoring 'Last Days of Shivanath Shastri: In a New Light' ('Shivanath Shastrir Shesh Jeevan: Notun Tathyer Aloké') 2019.
The topics he covered in his articles and books had a very wide expanse. This is evident from the following list of his books:
Sadhu Aghorenath O Adhunik Banglai Boudhyadharma Charcha: Boudhya Dharmankur Sabha (2016)
Unish Shataker Bangla O Bangali: Prasanga Brahmo Samaj; Abhijan Publishers (2017)
Banglai Rajneeti, Bangalir Rajneeti; Pustak Bipani (2012)
Rabindranath O Manusher Dharma: Abhijan Publishers (1420 Bangabdo)
Shri Aurobindo: Sakriyo Rajnoitik Jeeban; Patralekha (2018)
Shibnath Shastrir 'Englander Dairy'; co-edited with Shri Ranjit Sen; Aruna Prakashani (1416 Bangabdo)
Maha Bidroher Dersho Bachhor O Anyanyo Probondho; Pustak Bipani (2007)
Yogesh Chandra Bagol; Bangiya Sahitya Parishad (1391 Bangabdo)
Purano Bangla Boi; co-edited with Shri Swapan Basu; Pustak Bipani (2016)
Unish Shataker Bangla – co-edited with Shri Alok Ray; Parul Prakashani (2012)
Bharat Itihashe Nari – co-edited with Smt Ratnabali Chattopadhyay; Pashchimbanga Itihash Sansad; (1989)
Gautam Neogi believed in secularism and universalism. His conscience revolted against narrow-minded religious fundamentalism. This has found expression in many of his writings.
Samprodayikata O Bharater Itihas (Fundamentalism and the History of India) edited by Gautam Neogi; Itihas Charcha: Jatiyata O Samprodayikata, ; Pashchimbanga Itihash Sansad; (1985)
Ran Janmabhumi O Babri Masjid: Ekti Itihas-Birodhi Bitarka (Book)
Hindutwer Sankat – Mitra & Ghosh Publishers (1410 Bangabdo)
Itihas O samprodayikata; Pustak Bipani (1991)
In addition to literature, Gautam Neogi was also associated with journalism. Being associated with Kalantar, he was a regular contributor to this magazine. He was a part of the critique committee till 2018. He regularly contributed to 'Chaturanga' 'Yuva Manash'etc. In addition, the magazines that published his articles included 'Ananda Bazar Patrika', Aajkal', 'Bartaman', 'Ganashakti', 'Prabashi', Jijnasa', 'Tatwa Koumudi', 'Jayashree', 'Udbodhan', 'Aneek', 'Itihas', 'Shubhasree', 'Dainik Basumati', 'Pashchimbanga' and others including comparatively new magazines. His contributions were appreciated irrespective of the political and other leanings of the magazines. He strongly believed in two aspects of writing: he never undermined any magazine, however new and insignificant it was to begin with and he did not confine himself to Calcutta centric organisations but took part wherever efforts were put to take forward Bengali literature.
After superannuation in 2007, Dr. Neogi was associated with Narendrapur Ramkrishna Mission autonomous college as a visiting faculty in order to honour the request of the then Principal of the college. He was also the secretary of Joshi Adhikari Institute of Social Studies.
He was well known for his power of oration. He loved to travel. Whenever he had the opportunity, he went out on tour either with his friends or family. He believed that his address was 'India' and hence he was keen to know his motherland by travelling far and wide. When his colleague started a travel magazine in 2001-02, he became associated with that too. His travelogues appeared in the magazine 'Beranor Gappo' for ten long years.
Gautam Neogi was not only a member of Sadharan Brahmo Samaj but also closely associated in various activities of publication, library, educational and cultural events since 1972. He was a member of the Indian Messenger, Tattwakoumudi and Publication committees of Sadharan Brahmo Samaj until he breathed his last breath.
Gautam Neogi loved games of football and cricket. He was an epicure and relished good food. He loved his friends. He was a complete, responsible man.